Sculpture (1991)
by Alexander Liberman
Painted welded steel
Sponsored by Yale University Art Gallery
Yale University
New Haven, CT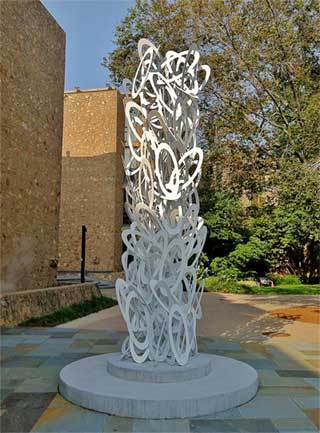 A miasma of interlocked zeroes forming an airy obelisk rises up next to Ezra Stiles College at Yale University.
It looks like a stack of zeroes thrown together, but they rise with a sense of collective purpose.
Of course, one of the great accomplishments of twentieth century mathematical logic, Principia Mathematica (1910-12) by Bertrand Russell and Alfred North Whitehead, articulated a position that numbers, thought by some to be elemental somethings, are really a bunch of logical derivations from nothing, i.e. constructions of hierarchical sets based on an originating empty set.
How interesting is this tower of interlaced nothings in the middle of an academic campus, where an endless aggregate of sometimes arcane studies accumulates and not infrequently raises a collective public question about what it all signifies.
The sculpture stands next to Ezra Stiles College, designed by Eero Saarinen (1910-1961), the noted Finnish-American architect known for rounded and flowing curves but here inspired by the cubist, but socially interactive, geometries of Italian hill towns, and built in the early 1960s as one of Yale's residential colleges. (Ezra Stiles and Morse College, also designed by Saarinen and built at the same time, are Yale's most recently built residential colleges, though Yale has just announced plans to build two new ones.)
Indeed, academically echoed abstractions often seem to the uninitiated like a lot of empty air. But, merged in a confluence of interdependencies and structural relations, they mount and rise upon one another to form an undeniably impressive tower, an intellectual obelisk.
Though here, in Liberman's vision, those zeroes are white – suggesting ivory – they form, as well as an ironic nod to that conventional jest about academic pursuit, a tribute to the purity of collective inquiry.
How many zeroes does it take to climb to the sky?
How useful those large holes become when creating a beautiful ladder, all intertwined, delicately balanced, providing so many improvisational angles of ascent.
– BADMan