Poetry Reading
Sponsored by the Woodberry Poetry Room
Houghton Library, Harvard University, Cambridge, MA
A reading done to celebrate, among other things, the fiftieth anniversary of the publication of Blues People, which Amiri Baraka published under his former name, LeRoi Jones.
Cathy Park Hong (born to Korean parents in 1976, raised in Los Angeles)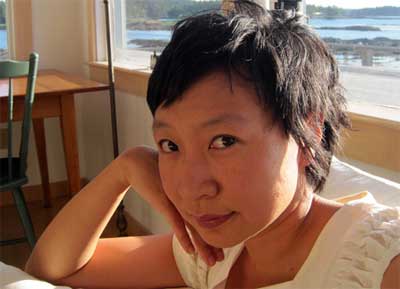 Reading from her latest work, Engine Empire, Hong described a triptych of three different invented versions of boom towns: from the old West, from present day China and from somewhere far in the future.
Among the various ballads that comprised this section, most striking among these were a pair of lipograms – poems using words that made use of a single vowel throughout. The phrase Vow to do good rang vividly from Ballad in O. From Ballad in A, emerged, remarkably, Kansan's cantata rang at that ramada ranch. How fun! In many ways, these playful poem word games were my favorites.
Engines Within The Throne invokes contemporary computer imagery in the larger frame of domineering political rulership, noting, along the way that The search engine is inside us. The world is our display – quite a chilling portrayal of the internalization and implicit potential manipulativeness of pervasive technologies.
The Old Colonial Dutch Quarters, from the section entitled Shangdu, describes a fellow who mass produces copies of Rembrandt self portraits, raising both curiosity about the artistry involved and despair about the mechanical quality and dire working conditions of these deliberate reproductions.
A Wreath of Hummingbirds includes an intimate and difficult portrayal of a father who cooks and eats them.
From the 2007 collection, Dance Dance Revolution, Hong read two musically inspired poems, Karaoke Lounge and Dance Hall Song for When You're In the Mood, among others.
Amiri Baraka (born 1934 in Newark, NJ. Formerly known as LeRoi Jones and Imamu Amear Baraka.)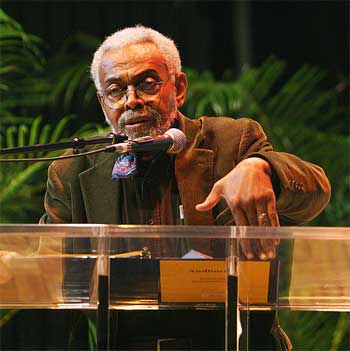 Now almost eighty and quite hunched over physically, Amiri Baraka, formerly LeRoi Jones and Imamu Amear Baraka, still packs a political punch.
Much of the work he read had a polemical twist to it, and some of it was undeniably controversial. Baraka noted that he was poet laureate of New Jersey for a short time until he was asked to step down just after the bombings of the World Trade Center in 2001. A poem he wrote in response and read publicly at the time (and which he read at the end of the evening here), Who Blew Up America? called the role of the United States on the world stage to account and suggested, among other extreme things, that Israel had prior knowledge of the bombings.
Here is the relevant stanza from that poem:
Who knew the World Trade Center was gonna get bombed
Who told 4000 Israeli workers at the Twin Towers
To stay home that day
Why did Sharon stay away?
Despite the controversial and sometimes bizarrely outlandish political messages that Baraka weaves into many of his narratives, there is a kind of musicality he brings to his poems. At its most potent, it is lyrically Whitmanesque in its overall lilt.
Much of the time, Baraka accompanies himself, during the breaks between poems, with his own vocal interpolations of jazz classics. Considering that the work he is perhaps most noted for, Blues People (published by him, as LeRoi Jones, in 1963) is a seminal study of Afro-American music, the familiarity and warmth he conveys for jazz classics is endearing.
A series of short snappy poems in a style he identifies as lowku (as opposed to haiku) were particularly embellished with these jazz vocalizations interspersed. The poems, humorous themselves, were woven together by the jazz envelope, giving a combined sense of condensed wit and improvisational flow.
– BADMan