Operetta (1885)
Music by Arthur Sullivan
Lyrics by W.S. Gilbert
The Lyric Stage Company of Boston
September 7 – October 13, 2012
Directed and Staged by Spiro Veloudos
Music Director: Jonathan Goldberg
Scenic Design: Janie Howland
Additional Lyrics: Deb Poppel, Bob Jolly, Jonathan Goldberg, Orchestrations: Jonathan Goldberg, Costume Design: Rafael Jaen, Lighting Design: Karen Perlow
With Leigh Barrett (Katisha), Rishi Basu (Pish-Tush), Teresa Winner Blume (Pitti-Sing), Christina English (Ensemble), Stephanie Granade (Peep-Bo), Bob Jolly (Ko-Ko), David Kravitz (Pooh–Bah), Joelle Kross (Ensemble), Kathryn McKellar (Ensemble), Brandon Milardo (Ensemble), Davron S. Monroe (Nanki-Poo), Brian Richard Robinson (Ensemble), Timothy John Smith (The Mikado), Matt Spano (Ensemble), Erica Spyres (Yum-Yum)
The Gilbert and Sullivan hit based on Japanese themes, colorfully done in an intimate setting, with lots of topical lyrics inserted into the original.
Nanki-Poo rolls into Nagasaki and winds up falling in love with Yum-Yum who is provisionally betrothed to Ko-Ko. Nanki-Poo is, in reality, the son of the Mikado, but there are all kinds of intricate legal demands involving who is free to marry and who must, alternatively, die. It's a comedy, so rest assured that not too much goes wrong.
As the legend goes, in 1884, during a time of struggle in the partnership between Gilbert and Sullivan after producing eight shows together, W.S. Gilbert was at home when, serendipitously, a decorative Japanese sword happened to fall from the wall. On a whim, this provided him the inspiration for The Mikado. Somehow, the libretto got written and the two worked together again successfully. The result is one of the great Gilbert and Sullivan classics.
Whatever the Lyric Stage does, it seems to do in an interesting way. Spiro Veloudus, its Artistic Director, has a versatility that enables him to direct all kinds of things with great success. In keeping with this general level of accomplishment, this production has a lot going for it, though it seemed, during the performance I saw, to need a further bit of aging to really hit its stride.
The opening of the show is wonderful and energetic. The male ensemble tears out upon stage to sing If You Want To Know Who We Are (We Are the Gentlemen of Japan), giving a sense, through clear voice and dramatic movement, of a much larger and more elaborate production. I marveled, as I often do at the Lyric Stage, at the way in which this intimate theater becomes a wonderfully live and vibrant space.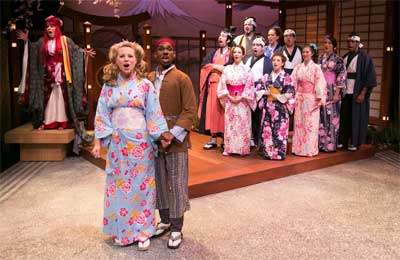 With the entrance of Nanki-Poo (Davron S. Monroe) singing A Wandering Minstrel I, there is a lyrical sweetness and a dramatic gesture of a more tender sort which Monroe's lovely tenor and gentle presence wonderfully provides.
When, later, the women's chorus appears, it has, as does the men's chorus, a charming and forceful, though more delicately soprano-ed, unison. Eventually, Yum-Yum (played and sung with a sprightly bounce by Erica Spyres) emerges from this chorus and sets its pace energetically.
The second act features the Mikado's (Timothy John Smith) vocal solo. It is a dramatic, robust and wonderfully entertaining tour de force and Smith pulls it off with amazing gusto. He looks here exactly like a cartoon samurai and he plays the part to the hilt.
Apparently, in the first performances of The Mikado, Gilbert and Sullivan felt this number was a failure and tried to take it out. But they were prevailed upon by cast and critics to leave it in, which they did fortunately, and it has become one of the traditional hit moments of the operetta. This performance was no exception.
Pooh-Bah (David Kravitz) sings with a resonant voice and brings across a solidly humorous and satisfying characterization of an officious middleman.
Leigh Barrett, a popular fixture on the Boston musical stage, does a good job as Katisha, the elderly lady in love with Nanki-Poo. I have seen her in several productions: Animal Crackers (2011) at the Lyric Stage, Car Talk: The Musical (2012) at Central Square Theater and in the stunning 2004 production of A Little Night Music at the Lyric Stage. She is a solid and versatile performer.
Sets are done beautifully, with a combination of wooden frames, screens and cherry blossomed branches thrust diagonally across the stage in a dynamic and effective way.
Costumes are highly colorful and entertaining. In particular, the Mikado's and Katisha's outfits are striking.
Many of the lyrics in this production have been changed or added to create topical meaning. Clearly, this is an election season show that pokes a lot of fun at politicians. There is only a short note in the program attributing these extensive embellishments to Deb Poppel, Bob Jolly (who plays Ko-Ko) and Jonathan Goldberg, the music director.
But there are so many embellishments to the original libretto, it almost seemed as though this might have been dubbed an adaptation.
As Ko-Ko, Bob Jolly seems to be a bit out of his element. At the performance I saw, he did not appear as comfortable singing Gilbert and Sullivan patter as he might, and he also gave the impression of being oddly distant, removed by something more than the irony of the plot.
– BADMan