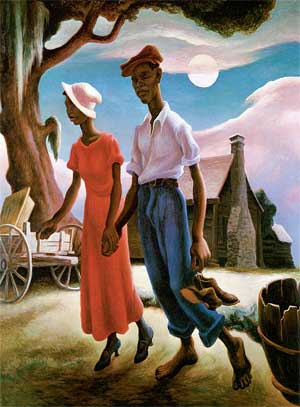 Noël Coward's Private Lives, which I saw a few weeks ago, is a rambunctious and irreverent treatment of marriage and romance recaptured. Its tone is burlesquelike, but its underlying theme is penetrating and appealing.
As I thought about Coward's vividly comedic treatment of a couple of EXes who passionately rediscover one another on their mutual honeymoons with other spouses, a few other treatments of the theme randomly came to mind.
My first thought was to James Joyce's Ulysses, one of the greatest contemporary (though now almost 100 years old!) paeans to recovered married love.
It traces the doings of middle-aged Leopold Bloom over the course of a day during which his erotic attention wanders, though his heart eventually takes him back home to his wife, Molly. And though, during this day, Molly dallies with another, it ends with her passionate reaffirmation – in a single breathless orgasmic sentence that goes on for forty-plus pages – of her love for Bloom. A too quick turnaround, one might say, but after the 800 or so pages Joyce takes to tell this oddball, but heartrending and universally fulfilling, tale, its emotional evolution feels epic.
It is a big and complex novel to get through, but, like Moby Dick and War and Peace, also oddball novels that are long and difficult in their own ways, the payoff of getting through it can be vivid, its meaning rising up through it in some different dimension.
I have read it through twice and parts of it multiple times and it still is difficult. There are some tortuous chapters that can be show-stoppers, but I encourage taking them with a grain of salt and going on. The third episode, called Proteus (all of the chapters in Ulysses are named after episodes in Homer's Odyssey) is one of those bears that derails a lot of readers. Later on, episode 14, called Oxen of the Sun, is another ridiculously obscure one. But, in a long and complex novel like this which has a wonderful cumulative payoff, it is worth muddling through the tortuous parts and carrying on – a lesson, through the metaphor of reading, germane to its subject.
Ulysses, of course, is based on Homer's Odyssey, in which marital love is retained by Odysseus and his wife Penelope over the course of the ten years during which Odysseus has ventured off to the Trojan War and wandered, in a variety of ways, on his journey home.
Shakespeare's A Winter's Tale is a late play that shows the blindness of false jealousy and the consequences of the apparently fatal consequences. Unlike Othello, an earlier tragedy, in which the results of jealousy are final and unredeemable, A Winter's Tale, considered a romance rather than a tragedy or a comedy, brings back the lost partner and forces the aged husband to face the wonders of renewal and restoration in the context of the long remorse he bears in response to his earlier actions.
Gabriel Garcia Marquez' Love in the Time of Cholera is not exactly about marital love rekindled, but about an unfulfilled early love finally realized late in life. That is not the same theme exactly, but the idea of youthful passion brought to fruition in old age has a related charm. How intense, vivid and passionate is that affair of elders, how different from the usual youthful portrayals of erotic love.
Masayuki Suo's beautifully drawn film, Shall We Dance? (1996) – remade in 2004 in an ok but less satisfying Hollywood version of the same name – is a story of a Japanese businessman who follows an instinct to break out of a dreary life to learn ballroom dancing. Though this film's odyssey shows his heart wandering towards his dance teacher, ultimately it is a tribute to the renewal of a marital relationship.
Ingmar Bergman's poignant and difficult Scenes From a Marriage (1973), originally produced as a five hour TV series and later edited down into a two and a half hour film, shows Johan (Erland Josephson) and Marianne (Liv Ullmann) across the years of togetherness, breakup and attempt at renewal. It is, at times, heartbreaking in its vivid depiction of passion lost and found and the special sort of reconnection that history enables them to reclaim.
Early films directed by Ang Lee, The Wedding Banquet (1993), written by Ang Lee, James Schamus and Neil Peng, and Eat Drink Man Woman (1994), written by Ang Lee, James Schamus and Hui-Ling Wang, contain wonderful images of love reaffirmed.
In the former, a male gay couple in the United States humorously faces the challenge of a visit from China of parents unaware that their son is gay. In the latter, set in Taipei, an unexpected May-September romance rises up in the context of filial complications and a lot of great cooking.
In lighter fare, two films that I always enjoy coming back to also come to mind.
The now classic film When Harry Met Sally (1989), directed by Rob Reiner with a script by Nora Ephron, is all about passion eventually gained through friendship, and commitment gained through the related struggle towards intimacy. It contains the immortal line – voiced by Rob Reiner's mother, Estelle, in a cameo as an overhearing customer in a diner scene in which Sally (Meg Ryan) exhibits to Harry (Billy Crystal) how easy it is to pretend having an orgasm – I'll have what she's having! – a raucous moment in the larger landscape of a wittily thoughtful reflection on togetherness.
And, ok, it is not exactly about old love found again, but the hilarious and wise film Groundhog Day (1993), directed by Harold Ramis and written by him and Danny Rubin, is about an odyssey of a different, but related, sort – within a day in the life of a man who, incapable of love, has to experience that day over and over until he figures out, finally, what it might really be about. It takes a lifetime of repetitions for him to get it, but he keeps coming back, and finally, through trial and error and eventual effort, he finds that even he can figure out how to craft a life with that other person who counts so significantly in his own.
– BADMan