June 23, 2012
Paintings by Morgan Bulkeley
New Work
Howard Yezerski Gallery
460 Harrison Avenue
Boston
May 25 – July 10, 2012
Iconographically rich paintings that draw one into their unique image-language scapes, and that are also lots of fun.
This series of whimsical, but detailed and very satisfying, paintings demonstrates their creator's interest in a kind of refined and evolving iconography.
There are printed pages, sometimes used as coverings for teepees, other times as faux leaves on trees. These pages seem to be floating everywhere. There are also an abundance of images, turned, twisted, amalgamated, hidden. Emerson and Thoreau float upside down in space. Animals stare out from the canvases at odd points, giving a combined sense of witness and wildness, something like the roles they play in the works of Henri Rousseau.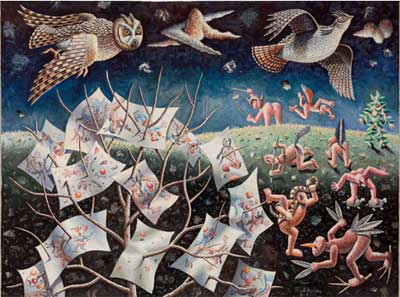 In each construction, one feels the emergence of a kind of language, and trusts that somewhere there will be a codex, a key for it. But, even if they are half articulated urges and there is no clear dictionary, no discrete explanation for how all these pieces fit together, there is a blossoming charm in all of them. They are complex and amalgamated, but there is a kind of lightness and joy that pervades them.
Mickey Mouse and Donald Duck hover with philosophers and crows, and the effect is Oz-like. With images floating in space, or on a field of poppies, we are caught up in a giant maelstrom of fanciful thinking, and happily so. Large eyed cats and crows with pleasant faces guide us, and we move from one canvas to the next looking for the floating page that contains the script that will explain it all.
– BADMan