Book, lyrics and direction by Wesley Savick
Original Music by Michael Wartofsky
Underground Railway Theater and
Suffolk University
Central Square Theater
Cambridge, MA
June 14 – August 12, 2012
Music Direction by Scott Nicholas
Choreography by Michelle Chassé
Scenic Design by Susan Zeeman Rogers
Puppet Design by David Fichter
With Leigh Barrett (Sheila B. Goodfew), Tiffany Chen (Miata C. LaChassis), Maureen Keiller (Beaulah Gasket), Voices of Tom and Ray Magliozzi (Wizard of Cahs), Scott H. Severance (Rusty Fenders), Jonathan Luke Stevens (Dream Rusty)
Ensemble: Christian Denzel Bufford, Tiffany Chen, Elyse Collier, Sarah Crane, Diego Klock-Perez, Jonathan Luuke Stevens, Edward Tolve
Puppeteers: Teryn Chin, Johari Frasier, Alycia Marucci, Maura Neff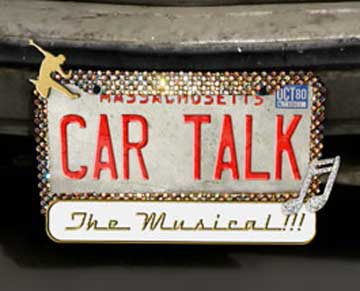 An impressionistic musical romp inspired by the long-running National Public Radio classic Car Talk.
Though inspired by the famous, long-running show on public radio, Car Talk, this musical is definitely not the biopic of the famous Magliozzi brothers who have made that show famous. Instead it is an impressionistic romp about cars, relationships and reliability, and, while romping, a grand send up Broadway musicals. It is by and large lots of fun.
The pretense is that Rusty Fenders (Scott H. Severance), a middle-aged guy, wants to get his car fixed, but he is torn between hanging in there with it and getting the girl who fits its modest frame, or getting a new, sexy car with its associated fast-track girl. The story involves not much more than that, and somehow, hung on that chassis, this Broadway satire does a pretty reasonable job of getting into gear and taking one for a quite entertaining ride for an hour and a quarter.
The show is certainly a musical, but, by and large, it is a takeoff on and amalgamation of songs and tunes from a zillion different Broadway shows, with lyrics adjusted to meet the automotive requirements of Car Talk. So, instead of I Really Need This Job (from A Chorus Line) there is I Really Need This Car, instead of Maria (from West Side Story) there is My Kia, and so on in the same vein, endlessly, but entertainingly. This plays around with themes from Car Talk but, in doing so, plays around much more with the twenty or thirty Broadway shows it quotes, giving each one of them a few funny minutes of vocal vignette.
The cast was competent overall, but I was struck by two young actors who had considerable stage presence: Tiffany Chen (Miata C. LaChassis), who played the fast-track seductress with flair and grace, and Jonathan Luke Stevens (Dream Rusty) who carried off the smaller, thinner, imagined version of the middle-aged schlub with a lot of verve and humor. They were both great.
I saw Leigh Barrett (Sheila B. Goodfew) last spring as a delightfully silly Mrs. Rittenhouse in Animal Crackers at the Lyric Stage, and here she holds down the tame but wise partner alternative capably. As the middle of the road protagonist, Rusty Fenders, Scott H. Severance was appropriately middle brow.
The puppet design by David Fichter, and the puppeteering, are great. The Wizard of Cahs (get it?) is a large contraption that looks like an automotive version of Jabba the Hutt from Star Wars, and speaks in the authoritative tones of the actual Magliozzi brothers. (Fichter did the wonderful designs for the great production of Arabian Nights at Central Square Theatre earlier this season.)
I was a little disappointed not to get the Tom and Ray Magliozzi story as I thought I might, given the title, but, in the end, it was a fun and pleasant evening. Though one of the early songs (I think it was Everything Might Be Looking Up) went on a lot longer than it might have, most of the pacing otherwise was pretty zippy.
It is amazing that that the authors of this show managed to create something so light and airy on the presumed Car Talk frame without really worrying very much about its narrative content. But it succeeds very well as a cabaret-type musical improvisation on the radio show and a parody of show-business musicals. When it keeps moving it achieves that pneumatic goal quite effectively.
– BADMan