Music by Leonard Bernstein
Adapted and Directed by Mary Zimmerman
Musical Direction by Doug Peck
Choreography by Deniel Pelzig
Sets Designed by Daniel Ostling
Costumes Designed by Mara Blumenfeld
Huntington Theatre Company
Boston, MA
With Larry Yando (Pangloss and others), Geoff Packard (Candide), Lauren Molina (Cunegonde), Erik Lochtefeld (Maximilian and others), McCaela Donovan (Pacquette and others), Travis Turner (Servant and others), Emma Rosenthal (Bird and others), Jesse J. Perez (Cacambo and others), Timothy John Smith (Governor and others), Joey Stone (Soldier and others), Alexander Elisa (Soldier and Others), Jeff Parker (Anabaptist and others), Evan Harrington (Orator and others), Abby Mueller (Orator's Wife and others), Spencer Curnutt (Sailor and others), Tempe Thomas (Queen of El Dorado and others), Cheryl Stern (Old Lady), Tom Aulino (Baron and others), Rebecca Fineggan (Baroness and others).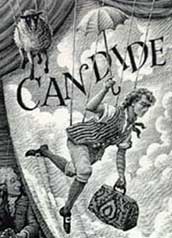 A wonderfully staged, sung and acted production of an intelligently conceived, contemporary adaptation of the 1974 rewrite of the 1956 interpretation of Voltaire's work of the same name (!)
Candide, a humble young man, is in love with Cunegonde, a young woman of the gentry. They are students of Dr. Pangloss, a so-very-optimistic philosopher who teaches that this is the best of all possible worlds. Young, hopeful and guided by Panglossian vision, they briefly discuss the subject of marriage.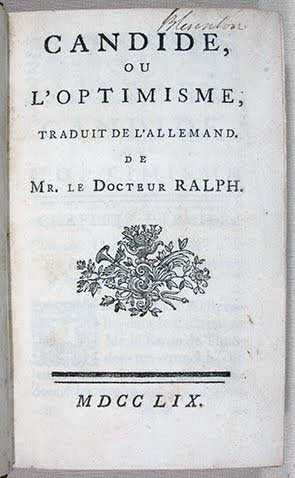 Before they can tie their knot, the lines are torn from their hands and they are thrown to the winds of circumstance by war, torture, exile and servitude; unwittingly, they become separated.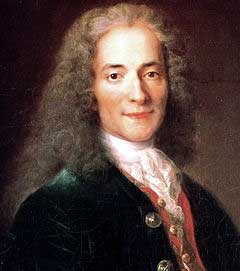 Voltaire
Eventually and serendipitously, their paths cross once again. Having faced many harsh trials, their optimism has become altered; no longer Panglossians, they arrive at a different, more existential, view of survival and relationship.
The overly optimistic and pedantic philosopher of Voltaire's Candide, Dr. Pangloss, is a take-off on the German philosopher, Gottfried Wilhelm Leibniz, who declared, in his work of 1710, Theodicy: Essays on the Goodness of God, the Freedom of Man and the Origin of Evil, that ours was, indeed, the best of all possible worlds. Leibniz, one of the greatest philosophers of his era was, in fact, far less of a goody-two-shoes than Voltaire's satire would lead one to believe.
Leibniz
Candide, the operetta, first written and produced in 1956, began with a libretto (adapted from Voltaire's classic) by Lillian Hellman. A complicated authorial history eventuated in most of the lyrics being added by the poet Richard Wilbur. The show had mixed reviews and limited appeal, though its recorded score became well known.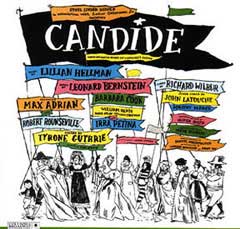 1956 Recording
The 1956 Broadway production of Candide was a box office disaster. It ran only two months for 73 performances.
In 1973, the great producer, Hal Prince, revised it and brought it to Broadway via The Chelsea Theatre under the musical direction of John Mauceri. The book was thoroughly rewritten by Hugh Wheeler. Lillian Hellman took great umbrage at the revival and considerable bad blood between her and Bernstein developed.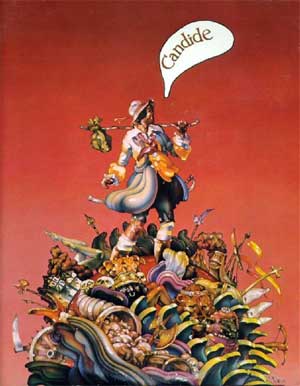 1974 Recording
That version has been tweaked several times since and re-produced in various settings. A recording, conducted by Bernstein, was released in 1997.
The highly kinetic melody from the overture and from Cunegonde's coloratura solo, Glitter and Be Gay, was the theme song for The Dick Cavett Show in the late 1960s and early 1970s.
The Prince-Wheeler version of 1974 – with its notable cast album conducted by John Mauceri – had a kind of zip, energy and vaudeville quality that gave considerable energy to the humorous philosophical core. The denouement, coming after the burlesque of travails, held the satisfaction of an energetic fable that winds to a wise end.
Lyrics for Candide have been crafted, over the history of its production, by Richard Wilbur, Lillian Hellman, Stephen Sondheim and Leonard Bernstein.
The current production, adapted considerably by Mary Zimmerman, goes back to Voltaire's original work to bring out more of the poignancy of that denouement. The results are terrific – penetrating and significant. Another philosopher is added – Martin – a fatalist – to offset the cheery disposition of Dr. Pangloss. And the travails are elongated in such a way as to make Candide's transformation believable.
The result is a compelling and effective drama. It is a burlesque and a romp that leads, through its maze of misdirections, to a penetrating conclusion. After such a wild ride, it is surprising to so touchingly arrive at a dramatic destination; it is all the more gripping for doing so.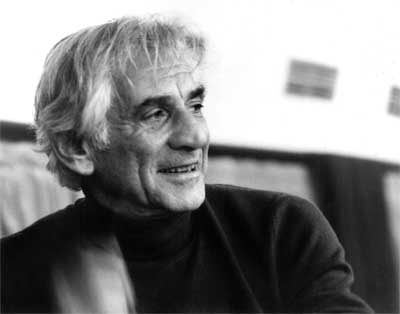 Leonard Bernstein
The staging and direction are superb. The set design is inventive, colorful and at times surprising. The movement of the cast on the stage is done creatively and effectively. Much goes on but it provides energy to the story and always seemed relevant.
The many excellent performances are testament not only to the gifts of the actors but to the talents of the director.
Geoff Packard (Candide) has a wonderfully clear voice, strikingly so. And he portrays Candide's guilelessness beautifully while winding it, in the end, to the appropriate psychological conclusion.
Lauren Molina (Cunegonde) is a superbly talented comic actress, funny at every turn. And she has a marvelous voice which she folds into her comic turns with great poise and ease. Her coloratura passages, especially in Glitter and Be Gay, were done in a supremely funny, but musically accomplished, way. Again, in the end, when the narrative demanded it, her character change was vivid and beautifully done.
Geoff Packard (Candide) and Lauren Molina (Cunegonde).
Photo © T Charles Erickson, courtesy of Huntington Theatre Company
Larry Pando (Pangloss and others) has a kind of punctuated, faux-pedantic delivery that perfectly suits the roles he played. They were very funny turns; he executed them exceedingly well.
Cheryl Stern (Old Lady) carried the part off deftly and convincingly. For the first time, in her rendering and Zimmerman's interpretation, I heard the I Am Easily Assimilated number about Jews being forced to becomeConversos in the Spain of the Inquisiton with new ears.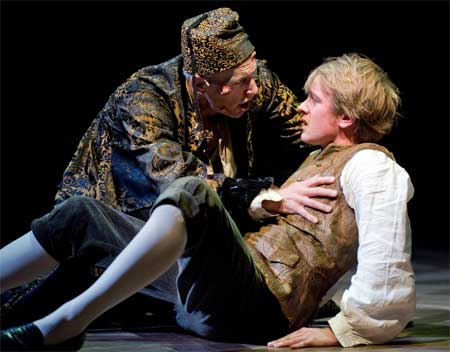 Larry Yando (Pangloss) and Geoff Packard (Candide)
Photo by Liz Lauren, courtesy of Huntington Theatre Company
The group numbers – Auto Da Fe – among them, were pulled off energetically.
In general, vocal capacity was superb all around.
My one question about this exceedingly good production was about some of the instrumental arrangements and performances.
The overture seemed somewhat less scintillating and exuberant than it might have been. I am used to the Candide Overture having spunk, played with crispness and velocity. Here it felt weighted down somehow. I also noticed some of that quality in the Entr'acte. If that were an interpretive choice, it did not quite do it for me.
Some of the musical arrangements appeared to alter Bernstein's work in an unexpected way. In the Overture, for example, I could swear that significant violin passages were edited out. Granted, the score is very difficult and requires a specificity of execution due to considerable exposure of the parts; and sometimes pit orchestras are smaller than they might be. As well, to compound the questions about orchestration choices, it seemed there might have been a general sound balance issue between strings, horns and woodwinds.
When the cast was singing and onstage, interestingly, I did not find any particular issue with the instrumental rendering. As a whole, the music came off very well. Because the overall quality of the production was so high, these questions about tempo, instrumentation and balance in the Overture and Entr'Acte were brought into somewhat sharper relief.
– BADMan