Opera by Richard Wagner
Metropolitan Opera
Lincoln Center for the Arts, New York, NY
Live in HD
James Levine (conductor)
Robert Lepage (director)
Carl Fillion (set designer)
Etienne Boucher (lighting designer)
Boris Firquet (video images)
With:
Bryn Terfel (Wotan)
Deborah Voigt (Brünnhilde)
Jonas Kaufmann (Siegmund)
Eva-Maria Westbroek (Sieglinde)
Hans-Peter König (Hunding)
Stephanie Blythe (Fricka)
Kelly Cae Hogan, Molly Fillmore, Marjorie Elinor Dix, Mary Phillips, Wendy Bryn Harmer, Eve Gigliotti, Mary Ann McCormick, Lindsay Ammann (Valkyries)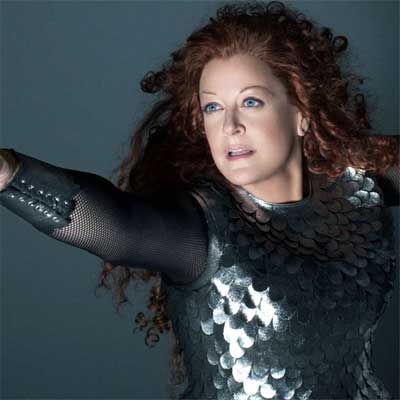 Deborah Voigt as Brünnhilde.
Photo courtesy of The Metropolitan Opera
This second installment in the four opera Ring cycle features a brother and sister who fall in love, a god and his wife who squabble endlessly, and a bunch of Valkyries led by the noble and independent-minded Brünnhilde. This performance – five and a half hours long – of the new production designed by Robert LePage and conducted by James Levine was stupendous.
Brünnhilde, the Valkyrie par excellence, is the heroine of this five and a half hour epic. Her alliance and subsequent struggles with her divine father, Wotan, make for the complications that ensue.
Wotan is hounded by his wife, Fricka, who tries, as best she can, to keep him honest. While Wotan does not really care whether the earthly brother and sister, Siegmund and Sieglinde, elope or not, Fricka is appalled. Sieglinde is married to Hunding, and, though it's not a good marriage at all, Fricka is a traditionalist and believes that you stay with your mate even when your true love comes calling.
Wotan, divinely henpecked, issues an order to Brünnhilde to prevent the lover-siblings from running off, but Brünnhilde is a sentimental and rebellious Valkyrie and does her own thing. Wotan is not happy, and, though he still loves hiis warrior daughter, he gives her a really big time-out on the top of a mountain with a ring of fire around it. And that sets the stage for the next six hour piece of the epic, Siegfried.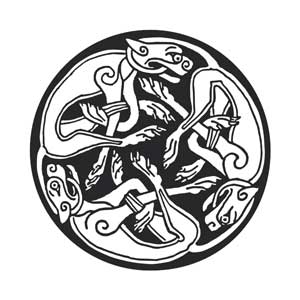 The magic of Wagner is that he can create, out of this sort of ludicrous authorship (produced by himself), a compelling musical drama.
This is the second of four new productions in the Ring series by the Metropolitan Opera, which earlier this year produced a new version of Das Rheingold, the first of the Ring operas. Next year, the Met will complete the series, with new productions of Siegfried and Götterdämmerung, parts three and four of the epic.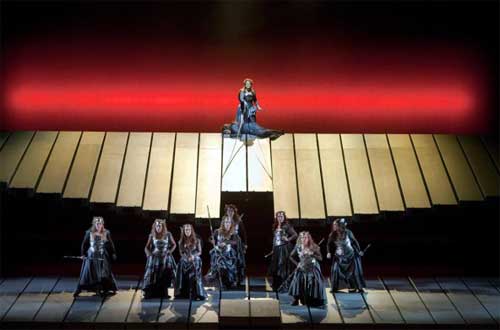 The physical centerpiece of the Ring productions is what has come – by the stagehands – to be called The Machine – a 48 ton computerized contraption that, in its segmented and rotational grandeur, manages to morph itself into just about any facet of Valhalla that one could desire.
In Das Rheingold, it was great to see The Machine do its thing – and to see the wonderful lights and projected images decorate its surface and space. But, though the singers and musicians were all capable, in the end it felt like the music was an add-on to the staging.
Not so with Die Walküre. This was a masterful and powerful production and the singers were so phenomenally vivid and present that the gyrations of The Machine truly offered an enhancement, not a distraction.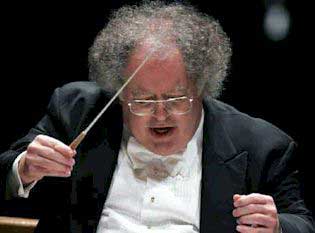 James Levine is some kind of genius, and it is hard to put a finger on what he does that pulls greatness out of singers and orchestras. He has not been well this year and there was considerable speculation that he might not be able to conduct Die Walküre. Earlier in the year he had to defer to his backup, Fabio Luisi, to conduct Das Rheingold. Luisi is a great conductor, but the Rheingold he led, though competent, was not great. (I would say, however, that his leadership in Strauss' Ariadne Auf Naxos, which I saw a few weeks ago, was great.)
Every last singer in Walküre was phenomenal.
Deborah Voigt was a brilliant and vivid Brünnhilde. Because I saw this production on Live in HD, I was able to appreciate the quality of her acting up close. She's really a good actress. Her gestures and facilal expressions in navigating her relationship with Wotan (Bryn Terfel) were artfully and subtly done.
Bryn Terfel, as Wotan, was, surprisingly, not particularly impressive in Das Rheingold. He is one of the leading bass-baritones on the planet, and it was a disappointment, in that production, to feel that he was half there. But, here, in Walküre, he came alive and brought out Wotan full force.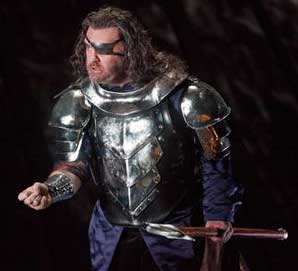 Bryn Terfel as Wotan
Photo courtesy of The Metropolitan Opera
Jonas Kauffmann, as Siegmund, was a revelation. He's German, but, in the backstage interview shown with Live in HD, he talked about how important it was for him to bring the lyricism and warmth of Italian opera into Wagner. And the force of that approach became clear when he sang the cruelly demanding part of Siegmund with incredible gusto and passion.
Eva-Maria Westbroek as Sieglinde was also very good, with a warm, clear voice. She was not, as an actress, quite as compelling in the role, but vocally she was also a revelation. Both she and Kauffmann are newcomers to the Met and it is clear that they both are assured to come back many times.
Stephanie Blythe as Fricka was forceful and resonant, with a mezzo earthiness that made the rocks of Valhalla quake. I understand Wotan's hesitation to quarrel with her after hearing that compelling voice.
Hans-Peter König was Fafner in Das Rheingold, one of the roles, in that production, that came off well. Here he is Hunding, the less than beloved, tyrannical husband of Sieglinde, but his voice is rich and stirring.
All of the Valkyries were excellent, and it was great to hear them on Live in HD interviewed backstage during the intermission. All bold Valkyries, but charming singers.
The Ride of the Valkyries was depicted by having The Machine flop its upper segments in rhythm. The effect was magical. After riding the flying segments, each Valkyrie got to slide down it and I had worried fantasies of them flying off into Metropolitan oblivion. But they all made it.
Finally, at six, the audience I went in with at noon emerged, all of us happy and satisfied. We had experienced a very long, but a great, powerful and stirring production.
– BADMan