Ray Chen, Violin
Andrew Tyson, Piano
Friends of Music
Sleepy Hollow, NY
Giuseppi Tartini
Violin Sonata in G Minor "Devil's Trill"
Cesar Franck
Sonata for Violin and Piano in A Major
Johann Sebastian Bach
Chaconne from Partita in D Minor for solo violin
Henryk Wieniawski
Three Pieces: Saltarelle, Legende, Variations on an Original Theme

A young whizbang violin virtuoso and a slightly older, more musically nuanced, pianist.
Ray Chen is a young (22) virtuoso with a remarkably accomplished technique. He also shows glimmers of true musicality which, I expect, in time, will come into greater fruition.
The most vivid moments of the evening came with the final pieces by Wienawski. These are frighteningly challenging technically and Chen certainly rose to the occasion with a relaxed athleticism. The flashy requirements of these pieces make them musical spectacles rather than experiences, but that's ok – music provides a big tent for all sorts of things.
Earlier attempts – by Tartini, Franck and Bach – were certainly well executed, but felt showy rather than penetrating. One would have no complaint about Chen's technical capacity to handle these, but musically they seemed forced.
Andrew Tyson is slightly older (24) and demonstrates a good deal more subtlety in his musical touch. During these preliminary pieces, on balance, Tyson offered lyricism to complement Chen's bravado.
Interestingly, another, not technically demanding, but very satisfying, offering was Gluck's Melody, played as an encore. Chen relaxed into this one and instead of working so hard to produce a kind of drama in his music, let this piece sing all on its own. It was truly beautiful, and, perhaps, more than anything, showed the musical promise that this young, astonishingly capable young violinist holds. And, it was revealing that he chose the lyrical, but not technically demanding, piece as his encore.
The audience ate up the pure technical mastery, and demonstrated how difficult it can be for a talented young musician to get confirmation that subtle and expressive musicality, rather than strident virtuosity, is, in the long run, the preferred thing to cultivate. With so much showbiz appeal in technical facility, it is easy to see why it takes real determination for a young whizbang to turn into a sophisticated master.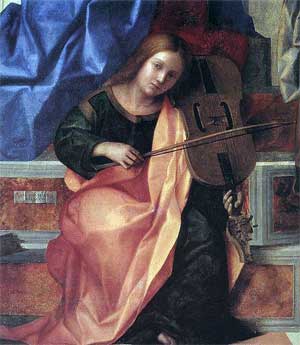 Giovanni Bellini, Sacra Conversazione (1505)
I recently read the obituary of a once-noted young violinist who in late middle age had died, never having realized the potential he demonstrated as a young wizard of technique. It seems that he had never grown out of the idea that musicianship was a form of exhibitionist competitiveness, and always sought to be on top, which he found he was unable to do. Sadly, this led to emotional devastation and self-destructive behavior. It was tragic to read of this unfulfilled potential, so clearly so because it stayed stuck on its early, very limited, vision.
Bach: Sonatas & Partitas for Solo Violin (Henryk Szeryng)
– BADMan