Play by Aaron Posner
Based on the novel of the same name by Chaim Potok
Lyric Stage Company
Boston, MA
Directed by Scott Edmiston
With Jason Schuchman (Asher Lev), Anne Gottlieb (Woman), Joel Colodner (Man)
February 11 – March 12, 2011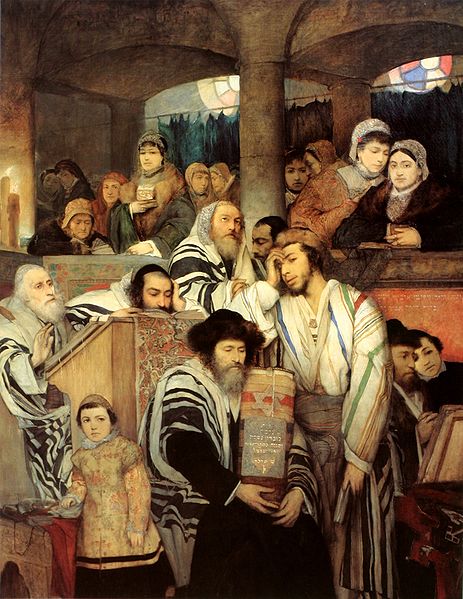 Jews Praying in the Synagogue on Yom Kippur by Maurycy Gottlieb (1856-1879)
When I went to see this play, I had forgotten that I had read the novel (published in 1972) on which it is based, but once it got rolling it all came back to me. This production is excellent, but the unnerving aspects of the novel returned. It was only on later reflection that I realized where its genius, and humor, truly lay.
Asher Lev is an artistic prodigy, capable of rendering amazing drawings and paintings. This would not ordinarily be a problem, except that he hails from a Hasidic family in Brooklyn for which such things are considered far too worldly. In that community, study of Bible and Talmud, and observance of a strict and ritually pure way of life, are valued; becoming a painter is not. Would that Asher Lev had been born into an intellectually liberal, Upper West Side family! Then, being an artist would have been part of the family religion. But, in the world Potok draws here, that life is in sharp contrast to the one within which the protagonist has grown up.
In ninety minutes, this artfully written play encapsulates the trajectory of Asher Lev as given in the novel, from child to adolescent to adult, and follows out his training as an artist.
Three actors convey this tale; two of them, identified only as Woman and Man, rotate through a series of roles. But, mostly, they play Asher Lev's parents, traveling from benevolently recognizing his early talents through feeling horror as his artistic sensibilities and talents develop. That he would actually paint nudes is the first of these horrors, but that is only a preamble to their cataclysmic distress when he starts to paint crucifixions.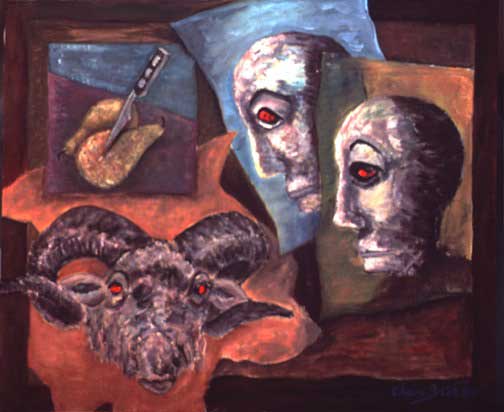 Ram by Chaim Potok
from http://potok.lasierra.edu/Potok.paintings.html
© 1997, 2002 by Chaim Potok and William M. Allen
The drama of the play mostly centers on this revulsion of the parents and the angst it causes Asher, all of which the actors convey adeptly.
Joel Colodner (Man) also plays Jacob Kahn, the artist who teaches and inspires Asher, and who helps him evolve a sense of artistic mission. Kahn instructs Asher not to hold back on the honest expression of feeling. Consequently, Asher's compulsion to depict what he perceives as his mother's anguish leads him to paint crucifixions.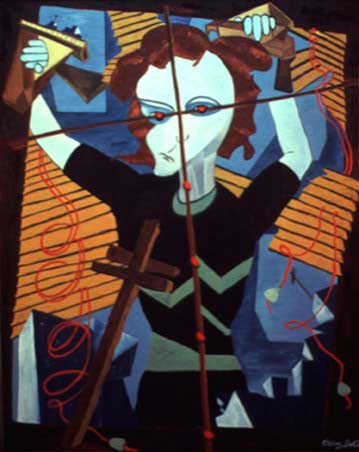 Brooklyn Crucifixion by Chaim Potok
from http://potok.lasierra.edu/Potok.paintings.html
© 1997, 2002 by Chaim Potok and William M. Allen
The intense, and humorless, conflict between the parents' Orthodox religiosity and Asher's artistic awakening prevails throughout the play, which is true of the novel as well.
And, though the subject matter and characters of this piece are Jewish, the one striking element of Jewishness missing from it is humor.
I was all set to believe that this largely tragic and highly charged work does not exhibit what so much of Jewish wisdom is about – looking quizzically and wryly at difficult things – until I came to a realization that this is actually a deeply hilarious work when one realizes its subtle source.
Who puts Asher Lev in touch with his secular art teacher? And who sends Asher Lev's father on foreign work expeditions while Asher develops his talents? The spiritual leader of the community – the Rebbe!
What, for Asher's parents, are horrible departures from Jewish tradition, appear, from that other deeply religious perspective, not so much as departures at all, but as steps on a related path. The joke is so subtle, it is easy to miss, but the punch line is so profound it takes one's breath away.
The play is very well acted and produced. Jason Schuchman does a fine job traversing the reach of years from early youth to adulthood, despite the reasonable challenges early on to convey childlikeness without singsonginess. As the play develops, his character, and language, gets more range and things open up considerably.
Joel Colodner and Anne Gottlieb are both great as Asher's parents and in the variety of other roles. Colodner plays the father, Jacob Kahn and the Rebbe, among other things, and Gottlieb plays an artist's model – compellingly – as well as the Orthodox mother. I have seen Colodner perform a number of times for Actors' Shakespeare Project productions and he's an excellent Shakespearean actor. It was nice to see him in this very different set of roles; he carried it all off beautifully.
The staging was fairly spare, but interesting, making good use of empty picture frames positioned judiciously.
The music by Dewey Dellay was very affecting and embellished the quality of the drama without being intrusive. It had an appropriately Hebraic tone to it, but avoided being extreme in that regard, creating atmosphere without drawing too much attention to itself.
Much in the dialogue between Asher Lev and Jacob Kahn is artistically inspiring. I saw the show with a composer friend and we agreed that was one of the strongest parts of the narrative.
This artistic coming of age story called to mind a similar story about a piano prodigy told by Frank Conroy in the wonderful novel Body and Soul, which, perhaps more pointedly than Asher Lev, details the training and evolution of a young artist. Asher Lev's mission is to evoke some of that material, but, occupies much of itself with the resistant landscape of traditional religion. That makes it broader in scope, and interesting for that reason, but not as singlularly directed to the depiction of artistic cultivation as Body and Soul.
— BADMan