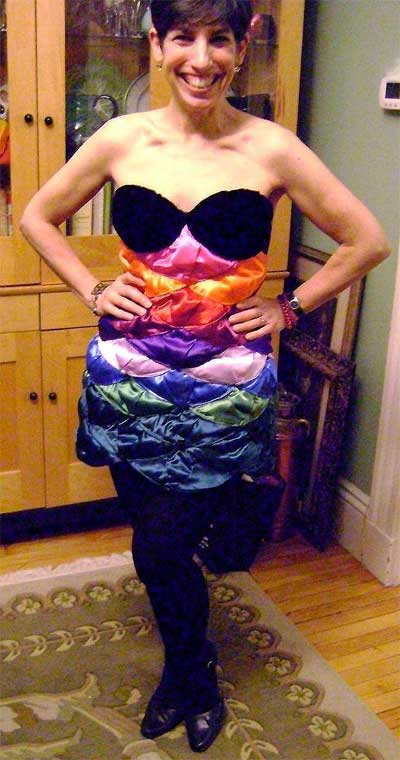 Image courtesy of Liz Perlman
It is always a pleasure to find competent, stylish and inventive clothing design mixed with humor and sharp wit.
Liz Perlman, formerly affiliated with the costume shop at the American Repertory Theatre and now CEO of Costumeworks, Inc., the noted costume design and fabrication shop based in Somerville since 1996, cultivates both talents in abundance.
In honor of Purim – the Jewish festival which celebrates the reading of the biblical Book of Esther with costumery and pantomime – Perlman created a fanciful dress made entirely from Yarmulkes – scullcaps – that she had collected from various Bar and Bat Mitzvahs. The result is not only delightful and funny, but beautiful, and wonderfully exhibits Perlman's gifts for both design and humor.

Image courtesy of Liz Perlman
As Liz tells it:
I had 3 doz kippot (kippah is another name for yarmulke and kippot is the plural) left over from Elaine's (Liz's daughter) Bat Mitzvah, and kept moving them from closet to closet in my house, and as I accumulated other colors from all of her friends' B'nai Mitzvot (plural of Bar or Bat Mitzvah), I kept thinking some fish scale-y design was the perfect thing to do with them all. This year I told enough folks I was doing it that I had to come through with the finished goods. I originally imagined it NOT with the kippot folded in half, but used as circles overlapping one another, but it didn't really work out that way, way too bubbly… I started pinning them to the dress form and this dress is what emerged.
– BADMan