Film (2019)
Directed by Ira Sachs
Screenplay by Ira Sachs, Mauricio Zacharias
With Isabelle Huppert (Françoise Crémont, AKA Frankie), Brendan Gleeson (Jimmy), Marisa Tomei (Ilene), Greg Kinnear (Gary), Vinette Robinson (Sylvia Andoh), Jérémie Renier (Paul Gagne), Pascal Greggory (Michel Gagne), Ariyon Bakare (Ian Andoh), Carloto Cotta (Tiago Mirante), Sennia Nanua (Maya Andoh)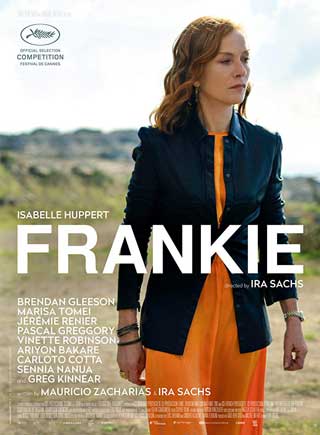 A brooding and thoughtful meditation on family, aging, vulnerability and loss.
Frankie (Isabelle Huppert), a famous film actress, has been married at least twice previously and is now happily linked up with Jimmy (Brendan Gleeson). But Frankie is not terribly happy and has brought her entire family together in Portugal, including one of the former husbands, to have a vacation. Nobody is quite sure of what's going on, but it eventually becomes clear.
In the meantime, Frankie's daughter, Sylvia (Vinette Robinson), seems to have some marital challenges of her, own while Frankie's son Paul (Jérémie Renier), by another father, can't seem to get a relationship going. Frankie would be all to happy to link him up with Ilene (Marisa Tomei), a film designer with whom Frankie has worked and whom she has invited along on the Portuguese jaunt as well.
This intentionally slow-moving film has some beautiful cinematography: great shots of the ocean from afar, from the beach up close, and of the countryside generally. There are tons of held shots and sequences. The very last sequence of the film is a very long single shot of characters making their way along a hillside. The effect is a bit painstaking, but it does induce a kind of preternatural calm in some ways.
Much of Isabelle Huppert's job involves staring in her particularly intent and somewhat distressed way. She gets plenty of opportunities to do so, and one gets a combined feeling of her disdain, personal pain, and, when it really works, her longing. There is a scene in which she takes a walk and winds up at an old woman's birthday party, the inadvertent guest of honor. Her discomfort at being there is readily apparent, and, though the scene is a somewhat weird insertion, Huppert, the unrivaled master of conveying just this sort of unsettledness, emotional distractedness, and unspoken frustration, rises effectively to that dramatic occasion.
Her scenes with Marisa Tomei are livelier and more compelling. Tomei is a very good actress who manages to give a lot of nuance to her responses, which makes her character's compatibility with the rather dour and singularly visaged Frankie so interesting.
Tomei also has a couple of interesting sequences with Greg Kinnear, who plays her tag-along boyfriend in an appropriately goofy and sincere way, and with Frankie's son Paul, with whom she gets to be more direct and evocative.
There's a lot of other intrigue going on, and the son's description of what happens when, years before, Frankie got remarried and he and his new stepsister were in attendance, is intense and unexpected.
A considerable amount goes on under the hood here and director Ira Sachs gives it a very broadly relaxed brush in which to paint the story of this family reunion. Its manner is a bit too deliberate and self-consciously tedious in places, but the general effect is persuasive. One sees the complexity of family from Frankie's perch, and one understands eventually why that view is as elongated, deliberate, and attenuated as it is.
– BADMan (aka Charles Munitz)