Play (1976)
by Ntozake Shange
Directed by Tara Brooke Watkins
Sechita Choreography: Juanita Pearl; Costume Design: Athena Horton; Allison Nicole Tucker: Stage Manager
The Pariah Theatre Company
at various locations around Boston
June 19-29, 2014
With Blyss Cleveland (Lady in Gold), Shelly Greaves (Lady in Yellow), June Handy (Lady in Brown), Athena Horton (Lady in Purple), Brianna Nobles (Lady in Orange), Juanita Pearl (Lady in Blue), Michaelin Thomas (Lady in Red), Jamara London Wakefield (Lady in Green)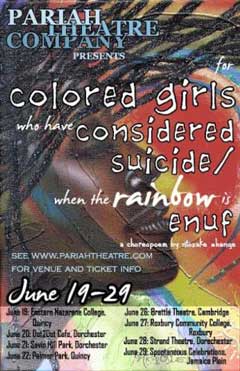 An energetic and evocative production of the choreopoem which made its debut on Broadway almost forty years ago.
This work is a fusion of poetry, story and theater enacted through multiple voices but having a passionate singularity throughout.
Its narrative is heartbreaking. Story after story of betrayal, abuse, theft, neglect, irresponsibility create an impossibly dire background.
And yet, remarkably, the energy of the piece is so vivid and positive that the overall effect is redemptive.
The group of young women who collaborate on this production weave an interesting blend of voices, each of them distinctive, but which, in unison, are forceful and coherent. Their energy is wonderful, and the subtleties of movement, gesture and tone create a pervasive sense of vitality that envelops the collectively tragic narrative. The poetry, while narrating personal calamity, calls forth, as well, the New York jazz scene of the 1970s, which provides additional aesthetic solace.
A religious note is struck at the end of the play, but it is really a capstone to the implicit sense of natural exuberance that the performers themselves evoke throughout the performance.
Much more like a series of narrative poems brought out in movement and gesture than a dramatic play, For Colored Girls… – billed quite correctly as a "choreopoem" – has particular appeal as a theatrical work that bridges these media in a unique and stimulating way.
At this performance, The Woman in Green was not able to perform, but The Woman in Gold, Blyss Cleveland, took on, at the last minute, the memorable the guy took my stuff story with confidence and aplomb.
Updated from the 1970s to include stories about AIDS infections and soldiers coming back from the war in Iraq, the play manages to keep its poetic anchor in the 1970s while expanding its range of subject-matter to include a sense of the contemporary.
– BADMan