Play, with music (2012)
Adapted and Directed by Hershey Felder
Based on the book The Children of Willesden Lane
by Mona Golabek and Lee Cohen
ArtsEmerson
Jackie Liebergott Black Box Theatre
Paramount Center
Boston, MA
November 23 – December 16, 2012
With Mona Golabek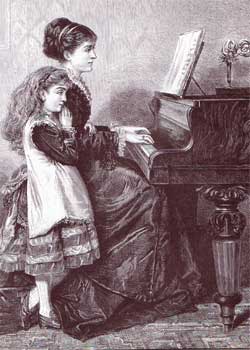 A riveting account of the real-life experience of the talented pianist Lisa Jura – the mother of the performer of this piece, Mona Golabek – who grew up in Vienna and was saved from the Nazis in 1938 by means of the kindertransport, which at the eleventh hour spirited 10,000 Jewish children abroad.
In 1938, Lisa Jura is a young Jewish woman in Vienna, and a talented pianist. After Nazi brutalities begin, her father secures her passage on the kindertransport to England, where she spends the war years and tries to continue her musical studies. After initial missteps, she lands at a foster home on Willesden Lane in London, where she makes important connections that help set the stage for her life and career.
The sole actor in this theater piece is Mona Golabek, the middle-aged daughter of Lisa Jura. After a brief introduction as herself, Golabek takes on Jura's identity for the remainder of the piece. Like her mother, Golabek is a talented pianist and brings that to bear throughout the performance by playing selections that represent parts of Jura's early experience.
In the course of an hour and a half, Golabek vividly enacts her mother's story as a young woman in Vienna, her escape from the Nazis to England, and her period of life in England during the war, embellishing and illustrating the narrative with evocative piano selections throughout.
Though set against the dire background of the Holocaust, Lisa Jura's story of escape and resettlement is relatively straightforward. Once she has found safe passage to England, a good part of the drama consists in uncertainty about her piano studies, framed by worry for her family and curiosity about the young men who take a fancy to her.
Despite this straightforwardness, however, Golabek portrays, and musically anoints, the story so convincingly that even these relatively small dramas seem significant.
Golabek is a concert pianist and has had little experience as an actress. When she first appeared onstage, I wondered whether that unfamiliarity with dramatic performance might derail the whole show. In short order my concerns were assuaged. She made her mother's life vivid in all of its details, while drawing, in words and music, her deeper and more pained yearnings towards continuation, and revitalization, through the piano.
This show was adapted and staged by Hershey Felder, the wonderful actor-pianist who brought Gershwin and Bernstein to life at ArtsEmerson last season.
It is no surprise that Felder has guided Golabek towards a similarly rewarding, though ever more personal, enactment through words and music. Golabek is indeed a very capable pianist and brings wonderful technique and interpretive depth to the variety of musical selections in the show. Included are numerous invocations of Grieg's Piano Concerto, but also a beautiful interpretation of the opening of Beethoven's Moonlight Sonata, along with various Bach quotations and some jazzier stuff.
This whole genre of theatrical performance cum piano is taking charge in its own interesting way. Felder's work alone has had quite an impact. But, as well, at the American Repertory Theatre last year there was a multi-person musical and dramatic show about Schubert's song cycle, Winterreise, entitled Three Pianos, also very good.
With sincerity, passion and a good deal of theatrical intensity, Golabek and Felder have produced a small gem, a memorable work.
– BADMan