Presented by Les 7 Doigts de la Main (The 7 Fingers of the Hand)
Director: Shana Carroll
Assistant Director: Isabelle Chassé
Artists: Guillaume Biron, Florent Lestage, Héloïse Bourgeois, Tom Proneur-Orsini, Mohamed Bouseta, Julien Silliau, Danica Gagnon-Plamondon, Olaf Triebel, Gisle Henriet, William Underwood, Olga Kosova
Arts Emerson
Cutler Majestic Theatre
Boston, MA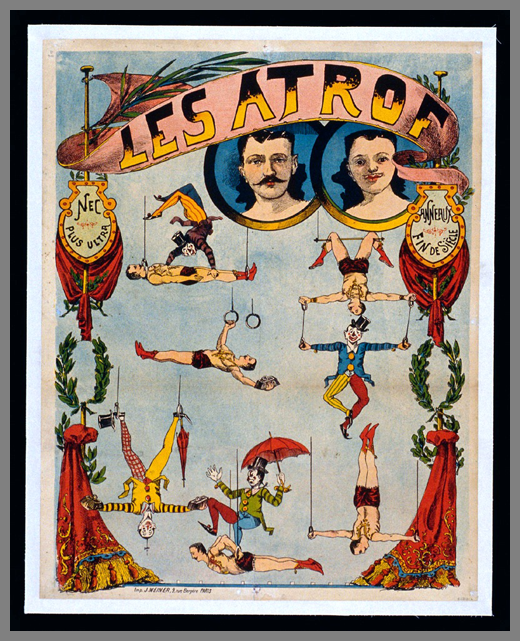 A youthful troupe of acrobats and jugglers from Montreal have put together a circus stage show tied together by the governing image of neurosis and psychotherapy. The feats themselves are extraordinary and subtle and the narrative is a loose comedic framework within which to embellish the significance of the antics. A wonderfully entertaining mix.
I don't know if it's all inspired by the success of Cirque de Soleil, but something interesting is happening with the circus arts in Montreal.
The current show features a passel of twenty-somethings performing all sorts of extreme stunts for over two hours, amazingly executed within the contained boundaries of an ordinary theatrical stage. They are all almost in constant motion and the action features a full range of acrobatic and juggling arts. The show is interestingly designed and choreographed so that streams of acrobats constantly bound, weave and dangle from one another, and those that do not hold the central focus move around energetically in all sorts of supporting roles.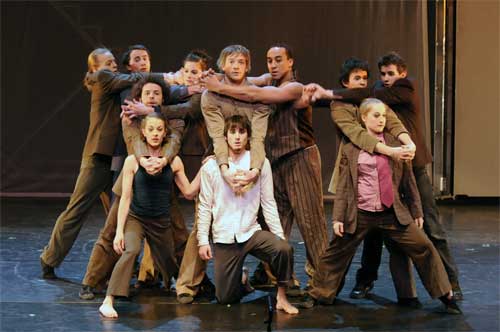 The grace and talent of the players is evident from the outset. As the first acrobat (Guillaume Biron) dangled from a stationary trapeze, he moved with such delicacy it seem less like acrobatics than slow, suspended dance.
Similar feats followed one upon the other, whether it was a single woman (Danica Gagnon-Plamondon) swinging on a high trapeze , or a single man (Julien Silliau) navigating a German wheel (a large metallic cylinder that rolls precariously around the stage, ever threatening to fly off into the orchestra and take several rows of onlookers with it, save for the artistry of the navigator who hovered in it effortlessly and expertly managed its angular momenta within the boundaries of the Cutler Majestic stage).
A man and a woman (William Underwood and Héloïse Bourgeois) did a kind of climbing, gliding and bending up and down a vertical pole with such tenderness and control that it seemed like a lovemaking dance in space. And they scrambled up the pole with such ease, I had the feeling I was watching a live-action version of the gravity-defying scrambling depicted, pseudo-mythologically, in Ang Lee's film (2000) Crouching Tiger, Hidden Dragon.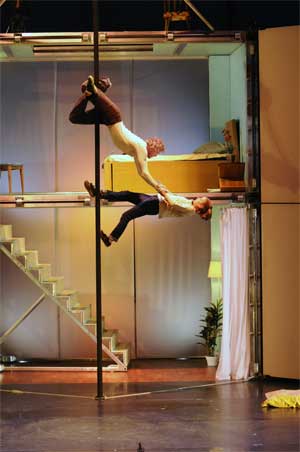 And the juggling was inventive and very exciting, whether done solo by the master juggler (Florent Lestage) who juggled pins while hooking a cane around them in amazing ways, or by the larger group. And what a larger group! At one point, the stage filled completely with jugglers and pins, going so many ways with so many people weaving in and out, it was hard to imagine how the scene was choreographed. But, clearly it was, and expertly so.
The knife juggler (Olga Kosova) – who thankfully did her routine solo – managed one or more scimitars, like a demonic baton twirler, with such dexterity that fear only surfaced when, in the final thrust, she sent a couple of the pointy devils hurtling into a board.
There was so much energy and inventiveness in this show, it gave not a moment of distracted pause. The whole troupe is young – they all seem to be in their twenties – and they really rock with enthusiasm.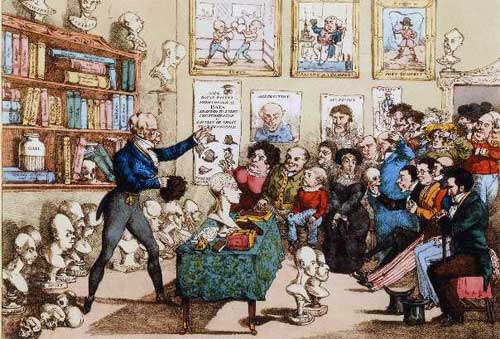 The theme – PSY – short for psychological or psychiatric or something – gives the narrative thread which holds the evening together. There are constant representatives playing therapists, and the corresponding acrobats, each of whom plays a particular neurotic character type, appear to play out the fantasies and neuroses of their clients.
This notion of governing narratives has played very strong with Cirque de Soleil, which has made a kind of mega-entertainment industry out of circus shows that have such thematic sweep. PSY demonstrates this capacity on a less grandiose scale than Cirque de Soleil but the result is very appealing and sweet, and brilliantly entertaining.
A bounding gymnast (Gisle Henriet) jumps from the high sets onto a platform held in place for his landing, and he does it repeatedly, leaping down, leaping up. it seems miraculous, but it is only one of the many miracles in this inventive, exuberant show.
American Circus Posters
– BADMan