Plays
by Stephanie K. Brownell, Kirsten Greenidge, David Valdes Greenwood, MJ Halberstadt, Manuel Aquiles López Torres, Jaymes Sanchez and Livian Yeh
Directed by Josh Glenn-Kayden
Artists' Theater of Boston
in collaboration with the
Department of Creativity, Arts and Social Transformation
Brandeis University
The Merrick Theater at Brandeis University
Waltham, MA
May 2-4, 2019
With Kadahj Bennett, Ines De La Cruz, Oye Ehikhamhen, Kimberly MacCormack, Keith Nolen, Maurice, Plamer, Ariana Teixeira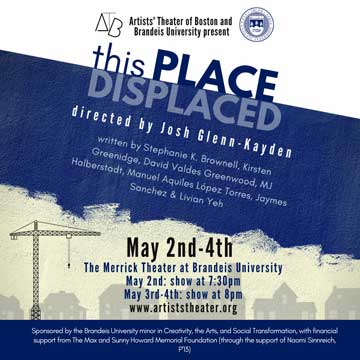 A remounting of a production about housing justice which was done in the city (at Charlestown Working Theater) last summer and which now, in collaboration with Brandeis, is bringing its potent urban message to those in suburbia and exurbia.
"The show was created by seven community partners who have been affected by housing displacement issues in collaboration with seven playwrights each of whom is associated with a particular community partner," says Anneke Reich, founder and artistic director of Artists' Theater of Boston.
"As an organization we are most interested in confronting issues that are most pertinent to our community; we are especially interested in associating ourselves with organizations confronting social change that work with us from early on in constructing theater pieces to address the relevant issues," adds Reich.
An amalgam of seven short plays, each seventy-five minute show will be followed by a twenty-five minute post-performance discussion.
The tag line for this young, dynamic, and socially-conscious theater is Theater Challenging Systemic Injustices Through Collaboration. Though not yet prepared to announce its offerings for the coming season, the theater plans to focus specifically on issues of gender and power.
Well worth checking out!
– BADMan