Film (2015)
Directed by George Miller
Screenplay by George Miller, Brendan McCarthy, Nick Lathouris
Music by Tom Holkenborg aka Junkie XL; Cinematography by John Seale; Film Editing by Margaret Sixel
With Tom Hardy (Max Rockatansky), Charlize Theron (Imperator Furiosa), Nicholas Hoult (Nux), Hugh Keays-Byrne (Immortan Joe), Josh Helman (Slit), Nathan Jones (Rictus Erectus), Zoë Kravitz (Toast the Knowing)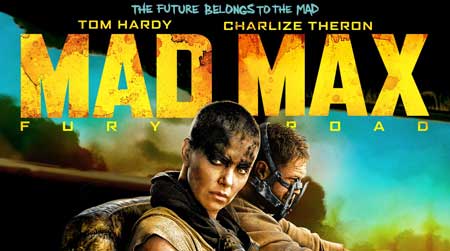 Another entry in the long-lived series featuring nonstop warfare between souped up jalopies driving nonstop through an endless dystopian desert.
If there is a story here, I would love to know what it is.
There are creatures who drives ridiculous contraptions that seem made out of junk cars from the twentieth century, but with all sort of neo-atavistic war implements. Imperator Furiosa (Charlize Theron) who has blackened eyes and short hair is leading a group of willowy slightly clad women someplace and this, I gather, makes this quite sorry action film have some sort of feminist appeal. There is virtually no pacing in this film though some may enjoy its nonstop forward movement, full of bashing and crashing. It is a cross between Speed (1994), in which a bus cannot stop for fear of its blowing up, and old-style Westerns, especially featuring railroads, in which there's all kinds of fighting that occurs while the devices barrel along.
Here, creatures with weird bumps prevail, an echo of physical appeal of the trolls in The Lord of the Rings (2001-2003) trilogy .
Tom Hardy (Max Rockatansky), the eponymous Mad Max, has a kind of Russell Crowe Gladiator (2000) vibe about him, all business and well suited to just getting through it with Charlize's Furiosa and the willowy women whom she leads. There's a little hint of romance between one of the women and another creature, but not with Max, which is kind of refreshing.
If you like seeing weird creatures attacking one another and have no need for any of the more standard expectations of dramatic narrative, go knock yourself out. This film has received a lot of rave reviews, and I really have no idea why. Everyone agrees it's not high art, but some people genuinely seem to have enjoyed it. You do have to give credit to scriptwriters who come up with names like Rictus Erectus, Corpus Colossus and The Vuvalini. There's something ingenious cross between heroism, eroticism, and the demo-derby post-historic-prehistoric dystopia that embraces it all which makes for some kind of visceral appeal to some, though not to me. I'm amused by the names, but I found the film boring.
– BADMan