Play (1938)
Music by Hans Krása
Libretto by Adolf Hoffmeister
Adapted by Tony Kushner (2005)
Directed by Scott Edmiston
Underground Railway Theater
Central Square Theater, Cambridge, MA
March 6 – April 6, 2014
With Phil Berman (Father/Dog), Christie Lee Gibson (Mother/Cat), Nora Iammarino (Eva), John F. King (Brundibar/Soldier), Rebecca Klein (Aninku), Jeremiah Kissel (Grandfather/Policeman), Alec Shiman (Pepicek), Debra Wise (Grandmother/Sparrow), Patrick Varner (Rudy/Brundibar Conductor), and an ensemble of young performers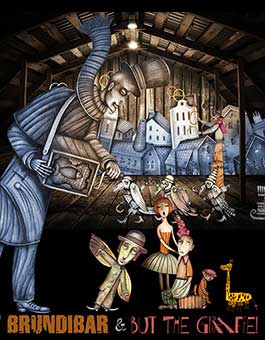 An adaptation of Brundibar, the imaginative musical written and performed at the Terezin concentration camp during World War II, with the contextual tale written by Tony Kushner, But The Giraffe!, set in a household on the verge of deportation.
The mini-musical, Brundibar, was composed in 1939 by Jewish Czech composer Hans Krása, and performed, starting in 1942, apparently fifty-five times, at the Terezin (Theresienstadt) concentration camp in Czechozlovakia during World War II.
It is a story, and a thinly veiled allegory, about a demonic organ grinder named Brundibar (played appropriately fearsomely by John F. King) who threatens and torments the sister and brother pair, Aninku (sung beautifully by Rebecca Klein) and Pepicek (Alec Shiman), who are desperately trying to get some money to buy milk for their sick mother by singing in the town square. With the help of several noble animals and a bunch of good natured children, they are able to scare away the evil Brundibar, sing their songs, and raise the money.
The Brundibar story itself is pretty simple but, with the embellishment of the helpful creatures and the delightful support of the chorus of children, there is plenty enough going on to keep one's attention.
The music, also, has a kind of Kurt Weill-ish flavor that adds an additionally shadowy and angular feeling to the goings on; no one is belting out Broadway anthems in this show. The cast, which includes a whole bunch of kids, does a remarkably good job of rendering the not exactly tuneful nor tonally straightforward music.
The mini-musical, Brundibar, is prefixed, in this Tony Kushner adaptation, by But The Giraffe!, which dramatizes events just before a family is deported to a concentration camp. The family can only pack a single suitcase and there is a face-off between young Eva (played luminously and hilariously by Nora Iammarino) who wants desperately to pack her giraffe doll and the father (Phil Berman), who, presumably though not explicitly as the composer of what we are about, in the next act, to see and hear, wants to pack his score for a children's opera. The inherent tragedy of deportation becomes a surprisingly light comedy that in its obvious contrast to the prevailing situation casts subtle but deep shadows.
Among others, Jeremiah Kissel (Grandpa), seen this past January in the New Repertory Theatre's exquisite Imagining Madoff, and Debra Wise (Grandmother), artistic director of Underground Railway Theater and very vividly remembered for her role in The How and The Why in 2012 at Central Square Theater, offer adept support.
The evening is short, but lively and colorful, and it is another great example of Central Square Theater's repertoire of shows that appeal to both younger and older audiences. It is also a show that, despite its fairy-tale-ness, is also particularly heartrending, both in its outer story of deportation, and in its inner symbolic story of unbridled maleficence and the hope that public good-will can overcome it.
– BADMan