Play by Lynn Nottage
Huntington Theatre Company
A co-production with La Jolla Playhouse and Berkeley Repertory Theatre
Boston University Theatre
January 7 – February 6, 2011
Directed by Liesl Tommy
Choreography by Randy Duncan
Scenic design by Clint Ramos
With Tonye Patano (Mama Nadi),Oberon K.A. Adjepong (Christian), Pascale Armand (Salima), Jason Bowen (Fortune), Carla Duran (Sophie), Wendell Franklin (Jerome), Zainab Jah (Josephine), Joseph Kamal (Mr. Harari), Kola Ogundiran (Laurent), Okieriete Onaodowan (Simon), Adrian Roberts (Commander Osembenga), Alvin Terry (Musician 1), Adesoji Odukogbe (Musician 2).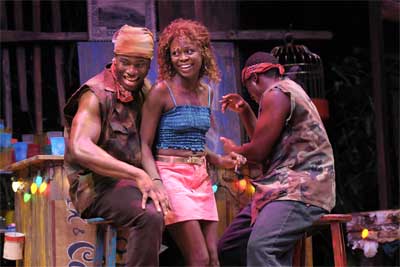 Okriete Onaodowan, Zainab Jah (Josephine), and Jason Bowen. Photo: Kevin Berne.
This is a well-meaning play about an important and difficult subject – murder and rape in the crossfire of armed struggle in contemporary Congo. The stories of the young – and somewhat older – women caught in this way are deeply moving. A great merit of this piece is that it draws our attention to this tragedy and cultivates our sympathies for its victims.

Set amidst civil war in contemporary Congo, Ruined centers on the comings and goings in a whorehouse managed forcefully by a middle-aged woman named Mama Nadi. She has a retinue of "damaged" young women, victimized with violence and sexuality in demonstrated, and in unmentionable and unspoken, ways.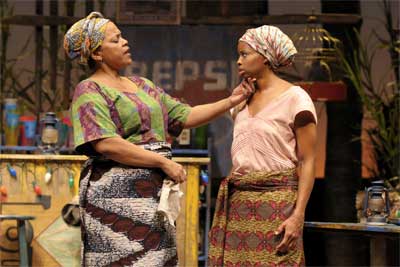 Tonye Patano (Mama Nadi) and Carla Duren (Sophie). Photo: Kevin Berne.
One of them tells, in a long soliloquy, the story her rape, the murder of her child, and her abduction. Indeed, her husband, who has scorned her as a result of this "disgrace," comes looking for her, and the torment of his appearance forces the most significant climax of the play. Another young woman, Sophie (Carla Duran), has an unspoken damage that portends surgical reparation, perhaps enabled by a merciful turn of the diamond trade. And Mama Nadi and her vulnerable suitor, Christian, explore interpersonal amends in the face of their own marked – but not consistently visible – challenges of ruination. Is love possible amidst all this tragedy? The play suggests that it might be.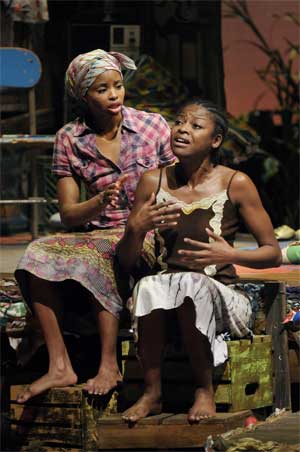 Carla Duren (Sophie) and Pascale Armand (Salima). Photo: Kevin Berne.
The play, though affecting, is written passionately but not particularly economically, both in its abundance of characters and in its narrative scheme. Though the scene of a whorehouse with varieties of soldiers and rebels coming and going suggests the need for a significant cast, the numbers seemed a bit high for what emerged. And a more focused narrative could have transformed an affecting piece into a great one.
Ruined won the 2009 Pulitzer Prize for Drama.
The most successful elements of the staging were the dance numbers, beautifully choreographed by Randy Duncan. They truly conveyed a sense of the joy amidst the horrible mess. The sentimentally tinged denoument, which tried to provide some of that joy, paled by comparison.
It was a miserable evening weatherwise and the performance was delayed by half an hour to accommodate late cast arrivals. The audience was small, which portended a weak response. But, in the end, about half of the audience rose to their feet in applause.
"Six years ago, I traveled to East Africa to interview Congolese women fleeing the armed conflict in the Democratic Republic of Congo (DRC). I was fueled by my desire to tell the story of war, but through the eyes of women, who as we know rarely start conflicts, but inevitably find themselves right smack in the middle of them. I was interested in giving voice
and audience to African women living in the shadows of war."

– Playwright Lynn Nottage on Ruined.
Certainly, this is a moving subject and a play which tells important stories. It is heartfelt and penetrating, and, given some tautening, it could convey its message even more brilliantly.
– BADMan